Return to Football FAQ's
---
---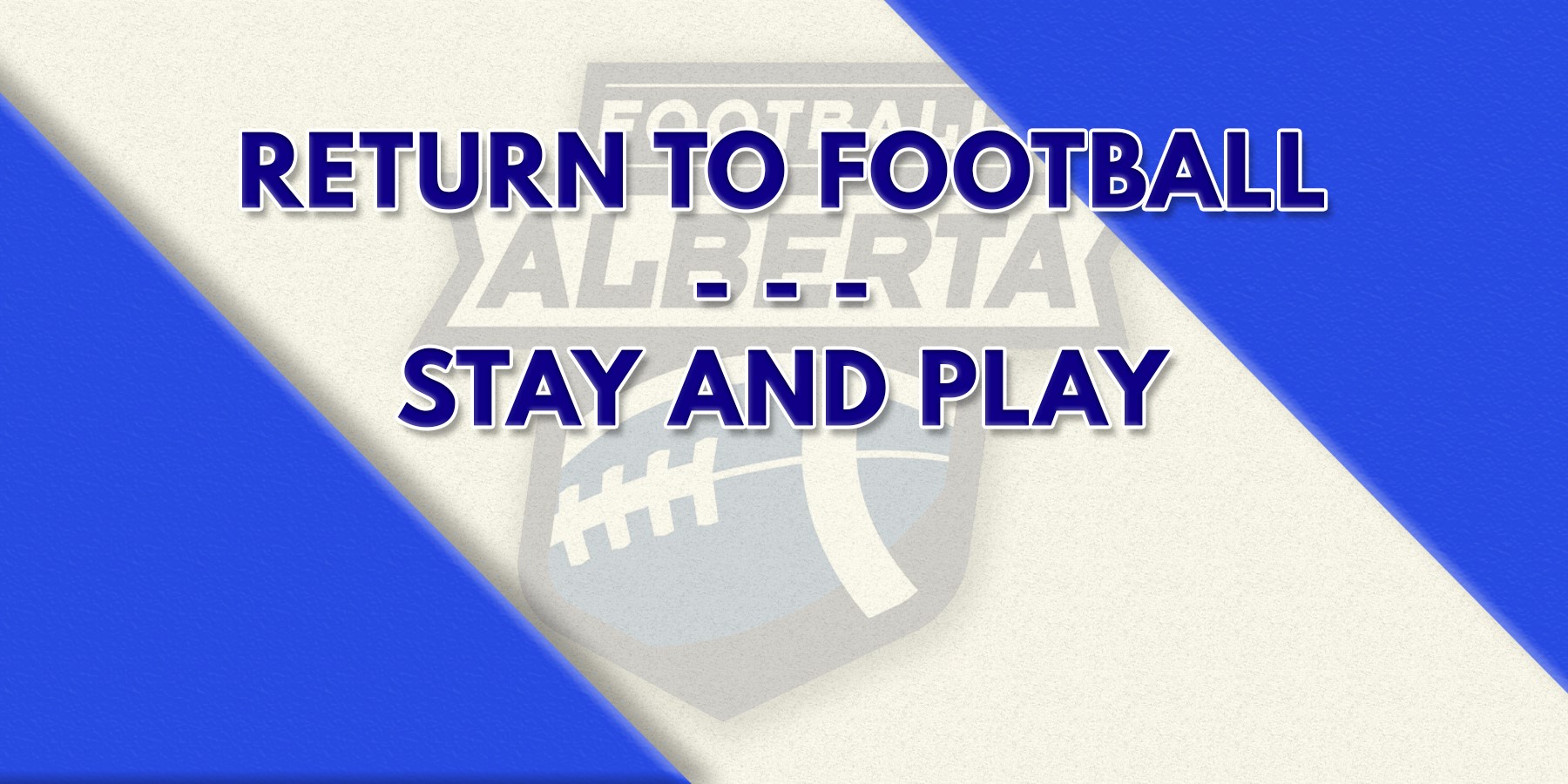 ---
Return to Play FAQ's
---
Read the full detailed guidelines Here
June 18th - Update from Alberta Government Return to Play Team
Latest guidance from AHS state "If an individual wishes to change cohorts, they should not participate in a new sports or recreation cohort activity for 14 days (this is the incubation period of the virus)." For example: If a player is playing soccer/rugby/baseball or another sport until August 1st, he/she should not play football until August 15th. The player does not need to quarantine or self-isolate at home, they should just not join another cohort team for 14 days.
Individuals may participate in other sports or skill development camps (even with shared equipment) OUTSIDE of their team cohort, IF maintaining physical distancing of 2 metres at all times. This includes throwing a footballs and sharing other equipment. There is an expectation that shared equipment would be disinfected often, especially between user groups to mitigate possible virus transmission. For example: A Bantam Football player who is cohorting with his local team in July & August IS able to attend a Skill Development Camp specifically designed for Quarterbacks and Receivers including throwing a football to each other IF the camp maintains physical distancing of 2 metres at all times.
June 15th - Clarifications to the Football Re-Opening Guidelines
Coach Maximum: The statemenPage 6) referring to 5 Coaches per team is in reference to an option of creating multiple 6-A-Side teams within one 50 person co-hort. If you choose another way of doing things you can have as many Coaches and Support Staff you want within your 50 person cohort.
Gloves: The initial Return to Play Guidelines (Page 5) included a recommendation that all personnel wear football gloves. In discussion with doctors from Alberta Health Services it has been determined that gloves are no better or worse than exposed hands. Both gloves or hands would need to be cleaned with hand sanitizer post practice as the virus can exist on either and gloves provide not additional level of protection in that area. Therefore, Football Alberta will leave the recommendation for gloves in the document but it is not mandatory for participation. All support staff such as athletic therapists or trainers should still wear latex gloves and PPE's when dealing with participants.
Membership Payment: Football Alberta will be charging you based on 50% of the normal registration numbers and will determine final numbers in the fall. Players must be registered with our office before any team activities can resume and payment must be made within the 2 weeks following your start date.
Appendix E has been added from the ASAA in regards to High School Seasons of Play.
Can my team or club start immediately?
Community based teams, clubs or associations can start taking registrations immediately but must have an assigned RESPONSIBLE PERSON to ensure they are compliant with the conditions within the Football Alberta Reopening Document before handing out equipment and going on field.
What extra things need to be done to meet the requirements of Stage 2?
There will be a lot more monitoring and sanitizing of equipment, plus a whole new list of general safety guidelines that will have to be complied with. Please check out the Football Alberta Return to Play Guidelines for complete details
Is there any difference between high school and minor football?
Yes. Community based minor football teams can go forward following the guidelines in Football Alberta's Reopening Document immediately. High School football must refer to the Alberta Schools' Athletic Association's Seasons of Play Policies, their School Boards, Superintendents, and Principals for guidance in this matter.
What about Physical Distancing?
The Physical Distancing barrier is an effective weapon in flattening the curve and stopping the spread of COVID-19. Football Alberta actively encourages all Albertan's to continue this practice in their daily lives. What Alberta Health Services has determined is that in most team sports it is impossible to conduct the activity without some breaking of that barrier. Therefore, by keeping the cohorts of 50 people or lower they are creating contact tracing systems for each sports group should the need arise. Physical fitness and sports are key components of the mental and physical health of Albertans and that has been recognized in this compromise.
What about shared equipment?
All communal equipment including footballs, blocking bags, pylons, etc. will have to be wiped down and disinfected at the conclusion of each session. Stage 2 allows them with increased sanitation.
Can we play games vs. other teams or clubs?
There will be no official league play or competitions against other team/cohorts in Stage 2. Any competition will have to be inter-squad or mini-games within the assigned cohort. It is hoped that with continued vigilance of Albertans in the fight against COVID-19 that potentially league play may be considered in future Stages.
What if I don't feel comfortable sending my son or daughter back onto the field with their team?
No one is going to be forced to sign up nor should anyone be made to feel bad about waiting until things improve more to return to football. Those families who have members with compromised immune systems, underlying health problems or have daily contact with seniors should strongly consider whether they wish to resume playing within the cohort system. Football Alberta respects whatever decision they would make.
Will we have insurance?
Yes. Our insurance carrier is on-side. Both Football Alberta and Football Canada have declared football open in our province which was a condition of return to our coverage. More details here.
Can we play other sports at the same time?
You cannot. Alberta Health Services was quite clear that once you choose a sport cohort where physical distancing cannot be enforced all the time and you have shared equipment, that is your cohort for the time being. You are welcome to join a new cohort after 14 days of completing the other activity you are associated with is completed. Latest guidance from AHS state "If an individual wishes to change cohorts, they should not participate in a new sports or recreation cohort activity for 14 days
What about summer camps?
If physical distancing is in place at the summer camp of your choice - no problem. If it is not, you would have to make a choice of which cohort you wish to stay with. Similar to playing other sports it would be one at a time.