The U17 Team Alberta Pacific Challenge is a week long development camp and exhibition game in Maui, Hawaii. The team was selected through the U18-U17 selection process and is named below.
Team Alberta U17

QUARTERBACKS
Eli Hetlinger, Harry Ainlay (Edmonton)
Xavier Vaillancourt, Cochrane
RUNNINGBACKS
Michael Delgado, Notre Dame (Calgary)
Cordae Hall, Strathcona (Edmonton)
Matthew Morin, Lloydminster
DEFENSIVE BACKS
River Cameron, Strathcona (Edmonton)
Thomas Eccles, Salisbury (Sherwood Park)
Jackson Ganton, St. Albert
Jordan Innes, Ernest Manning (Calgary)
Marcus Kee, Henry Wise Wood (Calgary)
Kaleb Sommerfeld, Lloydminster
Tyler Turner, Brooks
RECEIVERS
Nicholas Dielissen, Holy Trinity Academy (Okotoks)
Mike Finn, Holy Trinity (Fort McMurray)
Dawson Gladue, Cochrane
Kolby Hurford, Salisbury (Sherwood Park)
Keaton Neish, Foothills (Okotoks)
Jake Thompson, Cochrane
Declan Wilkie, St. Francis (Calgary)
LINEBACKERS
Matthew Bramwell, Salisbury (Sherwood Park)
Colin Clarke, Springbank
Daniel Joseph, St. Francis (Calgary)
Carson Remus, Foothills (Okotoks)
Kole Watson, Salisbury (Sherwood Park)
Branson Wilke, Bellerose (St. Albert)
OFFENSIVE LINE
Jacob Gulbransen, Foothills (Okotoks)
Pierce Murphy, Henry Wise Wood (Calgary)
Parker Nakamura, Foothills (Okotoks)
Daniel O'Blenes, John G. Diefenbaker (Calgary)
Evan Selzler, Archbishop Jordan (Sherwood Park)
James Sentell, Strathcona (Edmonton)
Navarone Watchmaker, Bonnyville
DEFENSIVE LINE
Ty Anderson, Centennial (Calgary)
Mikhail Biggs, Austin O'Brien (Edmonton)
Xavier Chacana, Archbishop Jordan (Sherwood Park)
Dante Gibson, Notre Dame (Calgary)
Scott MacDonnell, Springbank
Curtis Myshaniuk, Stettler
Jacob Yahaya, St. Francis (Calgary)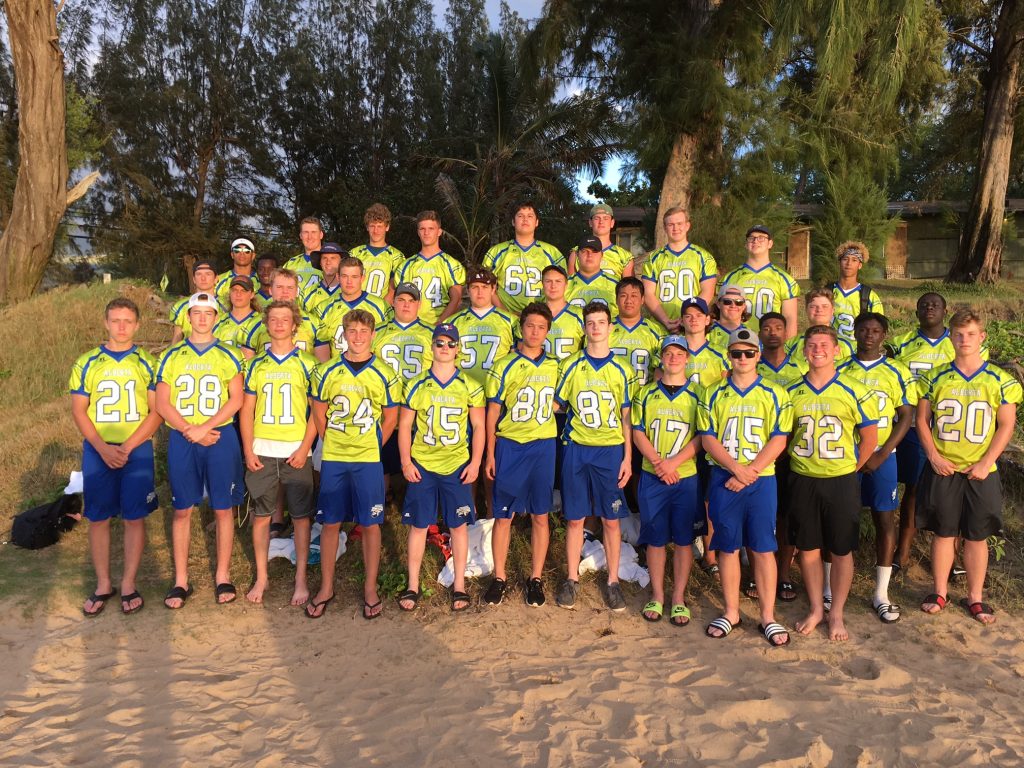 The concept of Team Alberta Hawaii started in 2006 when a former Alberta high school football coach retired and moved to Hawaii. Once there, he took over a high school football team and put out the invitation to Alberta high school football teams to come to paradise for an exhibition game. Unfortunately, the only space he had in his schedule for a game was in the middle of August (they have year-round schooling in Hawaii) and no Alberta team could make it that early in the year. But a summer camp could…
What has developed since that time is a summer high school football camp that is dedicated to improving you as a football player as well as giving you a once in a lifetime travel experience. Make no mistake this is more than just palm trees, beaches and sightseeing. We have brought together a very experienced and talented coaching staff made up of current or former Team Alberta or Senior Bowl coaches, whose main focus is to make you a better football player. Each day they will work you through the latest in skills and drills and also prepare you for the end of the week scrimmage against one of Hawaii's top high school football teams.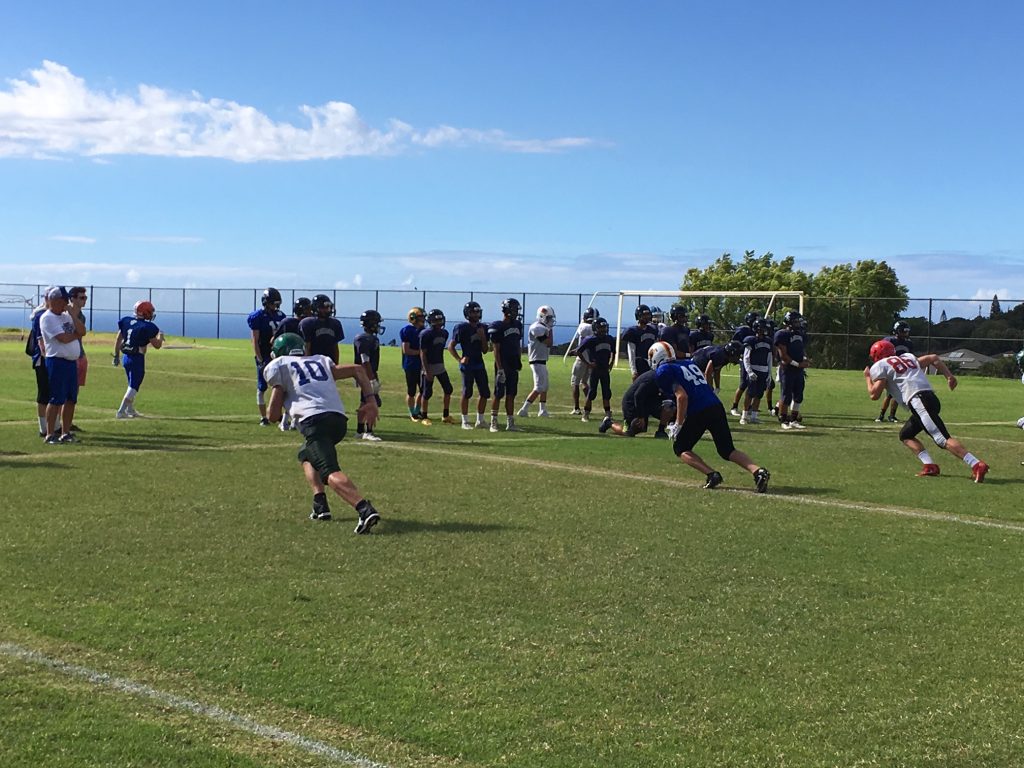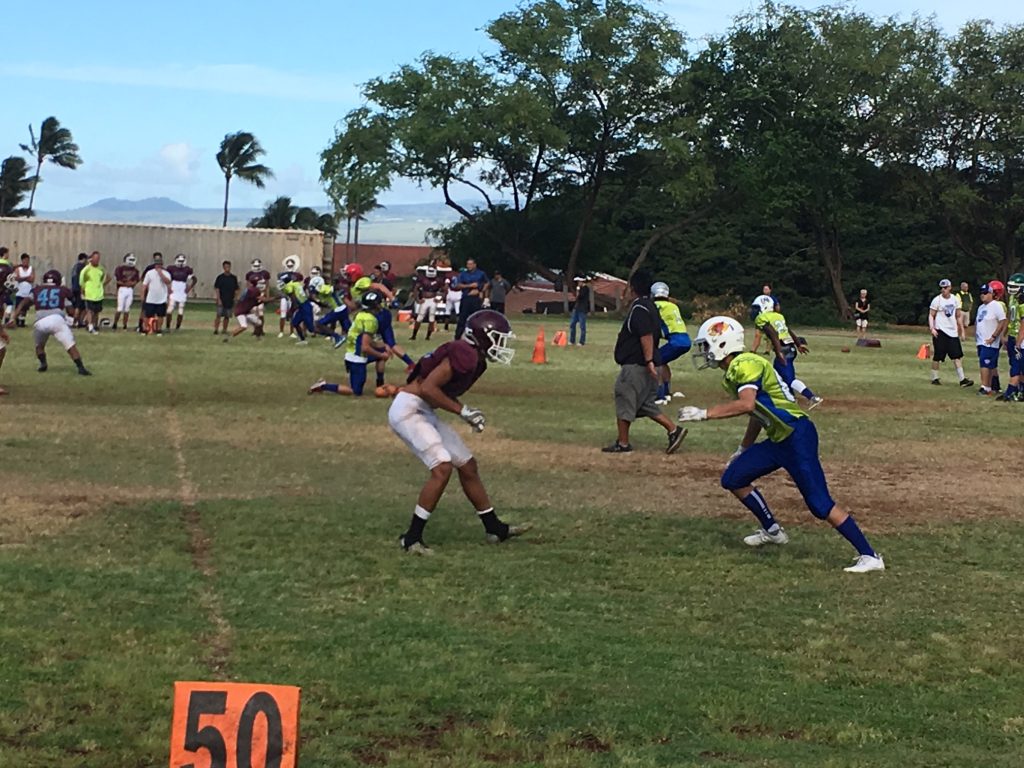 There will be several seminars presented to the camp from experts in nutrition, doping and drug education, post secondary football planning, and many other issues related to your improvement on-field.
As well the camp will feature a joint practice with our Hawaiian host school, and several other activities such as a luau, jungle hike and snorkel cruise.