Current Football Alberta Sanctioned Events/Camps
The following camps and clinics are not delivered by Football Alberta. They are organized and run by either Football Alberta partners or by organizations that provide Football Alberta insurance to players.
University of Alberta
Watch our website and social media for updates on future camps.
University of Calgary Camps
For information on U of C camps year round, watch their website: https://www.ucalgary.ca/ActiveLiving/registration/Program/1343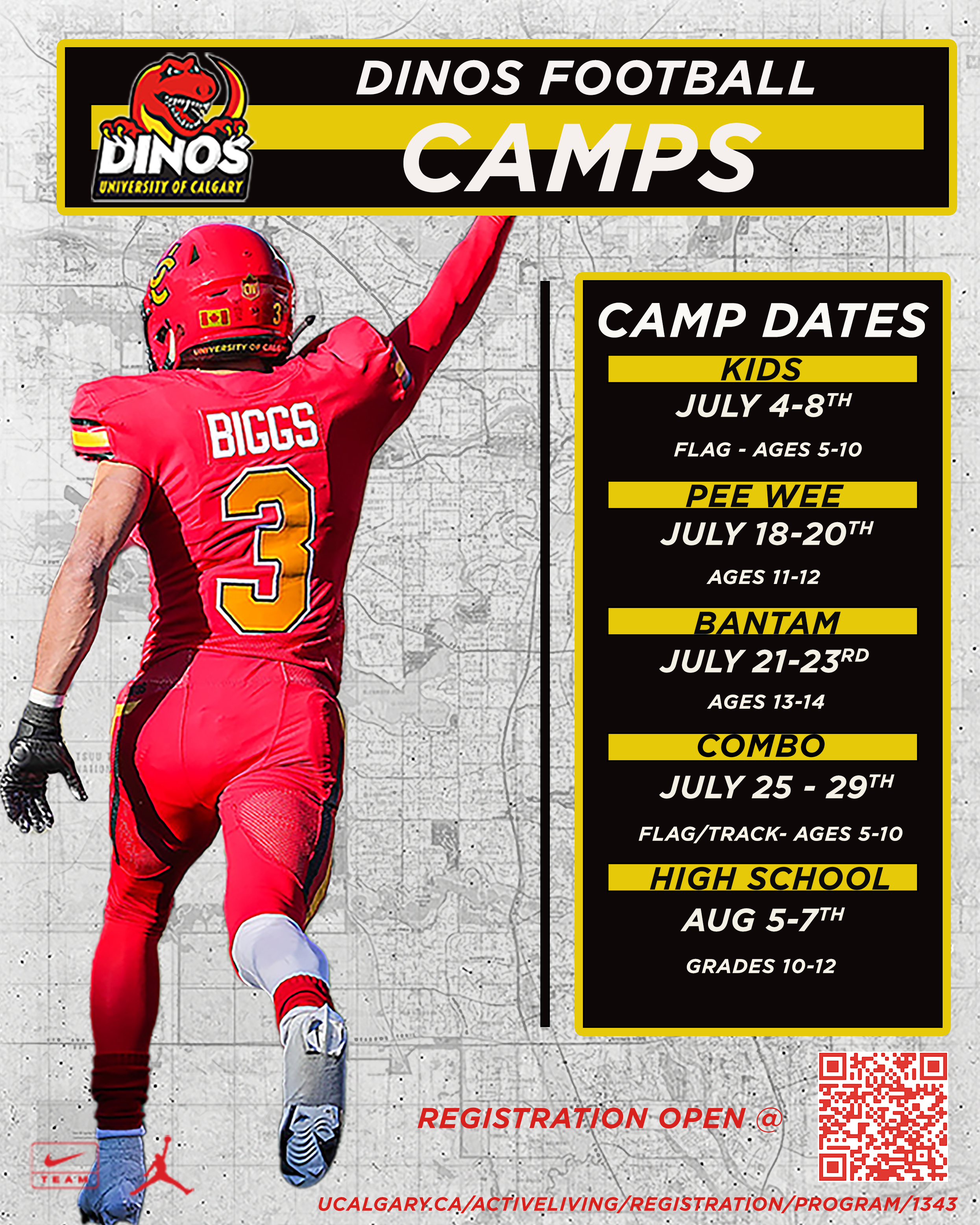 RAW Sports Calgary
Full information and camp details can be found https://www.rawsports.ca/
RAW Elite Combine Series (Calgary)
Same lasers as the NFL & CFL combine.
We will have a database with all of the players testing results across 6 cities (Calgary, Edmonton, Red Deer, Lethbridge, Kelowna, Abbotsford). The database will be sortable by city, age, position, and test, so players can see where they stack up.
Testing will consist of the 40 yard dash, short shuttle (10-5-10), broad jump, vertical jump, and bench press (high school only).
Sunday, June 5th, at the Calgary Foothills Soccer Centre.
RAW One Week Shells Football Camps (Atom/Peewee/Bantam/High School)
Camps in Calgary, Edmonton, Red Deer, and Lethbridge. Sessions run M-F, 8:30-2:30pm. 30 hours of skill development before the fall season.
Shells football concept - helmet, shoulder pads, shorts. All equipment provided.
Typical day consists of indy, blocking & tackling fundamental periods, 1-on-1s, team, o vs. d, film, and a special teams period. All competitive periods will be filmed with drones.
Combine on the 1st day or camp that will be added to our database (we will have testing from 6 different cities on the database).
RAW Calgary Youth Summer 7v7 Football Camp
M/W/F - June 20th -July 29th - 6-8pm (36 hours total) @ Shouldice Aquatic Centre.
Camp will focus on players skill development, speed/agility/explosiveness, and will also implement 7V7 football.
RAW Calgary High School Prep - Weights
A comprehensive, age-specific football training program, providing athletes with a complete football training curriculum. The regimen will include a full strength/conditioning/mobility program and speed/agility training.
Players will be in peak shape for their fall seasons.
3x/week (M/W/F), June 20th-August 19th (9 weeks).
NW/S/NE locations & times available.
RAW Calgary High School Prep - Field
The final stage in preparation for the coming season. Camp will have a high emphasis on individual position training, competition, explosive training, conditioning, speed/agility training, as players enter the final stage of their offseason.
Sessions will be filmed using our drones, footage uploaded to hudl.
Tuesdays & Saturdays, June 21st - August 20th, 2022 @ Shouldice Aquatic Centre.
PEAK School of Football
More information: www.peakschooloffootball.com